ACSN's 2021 Annual Conference - originally scheduled for this July in San Diego - has pivoted to an entirely virtual experience. The conference planning team remains dedicated to bringing ACSN members, colleagues, and friends an intentional professional development program mirrored to support the changing times of the past year. Mark your calendar for this virtual experience on Monday, July 26 through Wednesday, July 28, and stay tuned for frequent updates within the coming weeks.  Something to look forward to - July 2022 - when we hope to gather safely #ACSN2022 in San Diego | Coronado Island! 

Conference Audience >> 
ACSN2021 welcomes alumni career services professionals for a three-day virtual conference event. Attendees will reflect on lasting effects to higher education introduced by the COVID-19 pandemic and share resulting best practices for implementation in alumni career services offices. Attendees include alumni specialists, career advisors, and program and development specialists as well as managers, directors, and senior leaders across institutions.
Conference Pricing & Registration >> 
ACSN wants to make ACSN2021 > Virtual accessible to as many members and alumni career professionals as possible this year. 

ACSN Members Fee: $0 - included with your ACSN membership. Membership must be current and paid/renewed by July 15, 2021
Friends and Non-Members: $149 - includes a complimentary one-year ACSN membership
ACSN 2021 Virtual Keynote Speakers  >>
We are excited to announce our Conference Keynote Speakers for 2021!
Follow our social media on Instagram, Twitter, and LinkedIn for in-depth speaker profiles and your chance to submit questions for our presenters in advance of the conference. 

Conference Schedule Overview >> 
Check Out the Latest Conference Detailed Schedule: Conference Schedule and Concurrent Sessions
Click Image to View Daily Schedule or Download Entire Schedule at Link Below.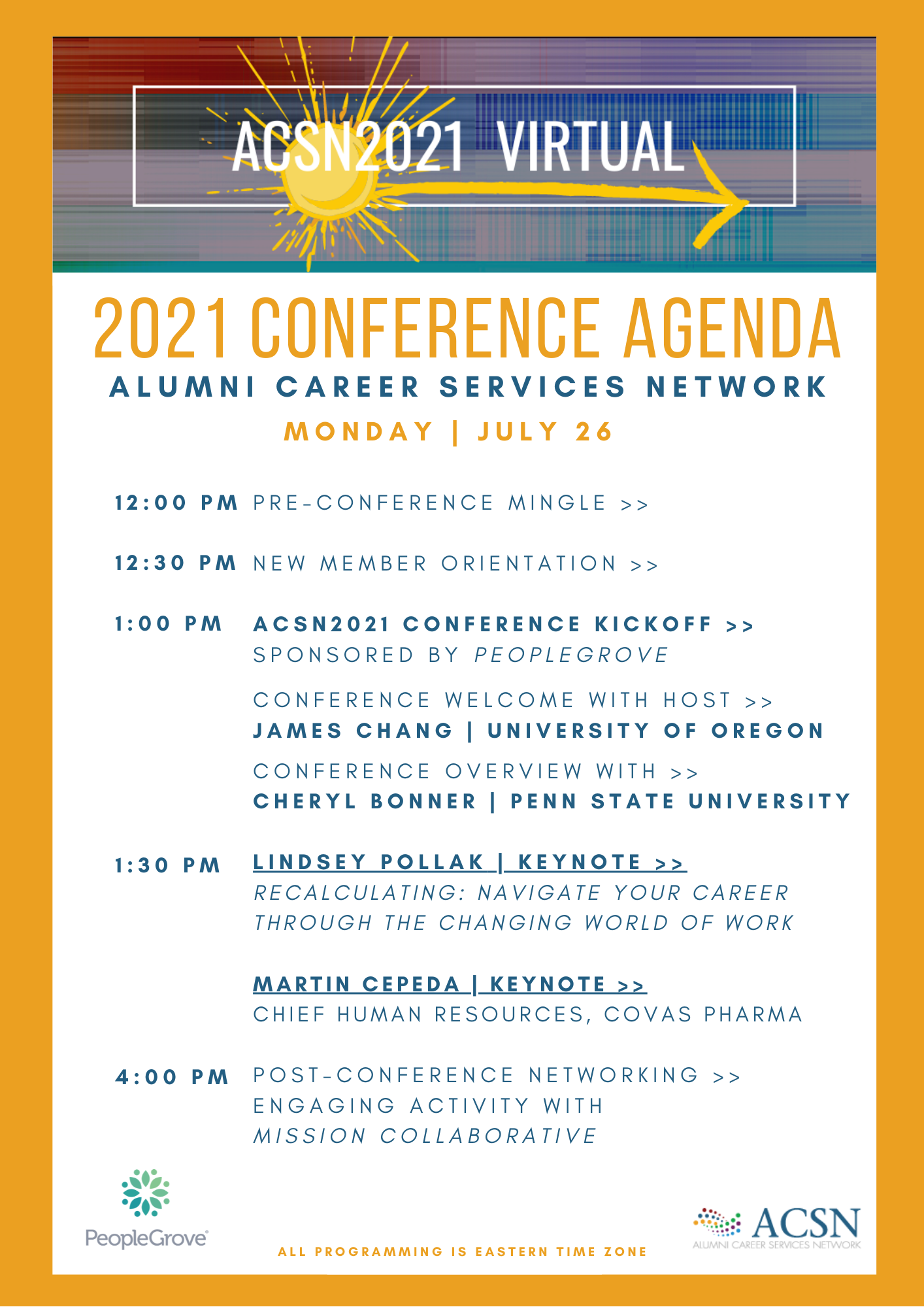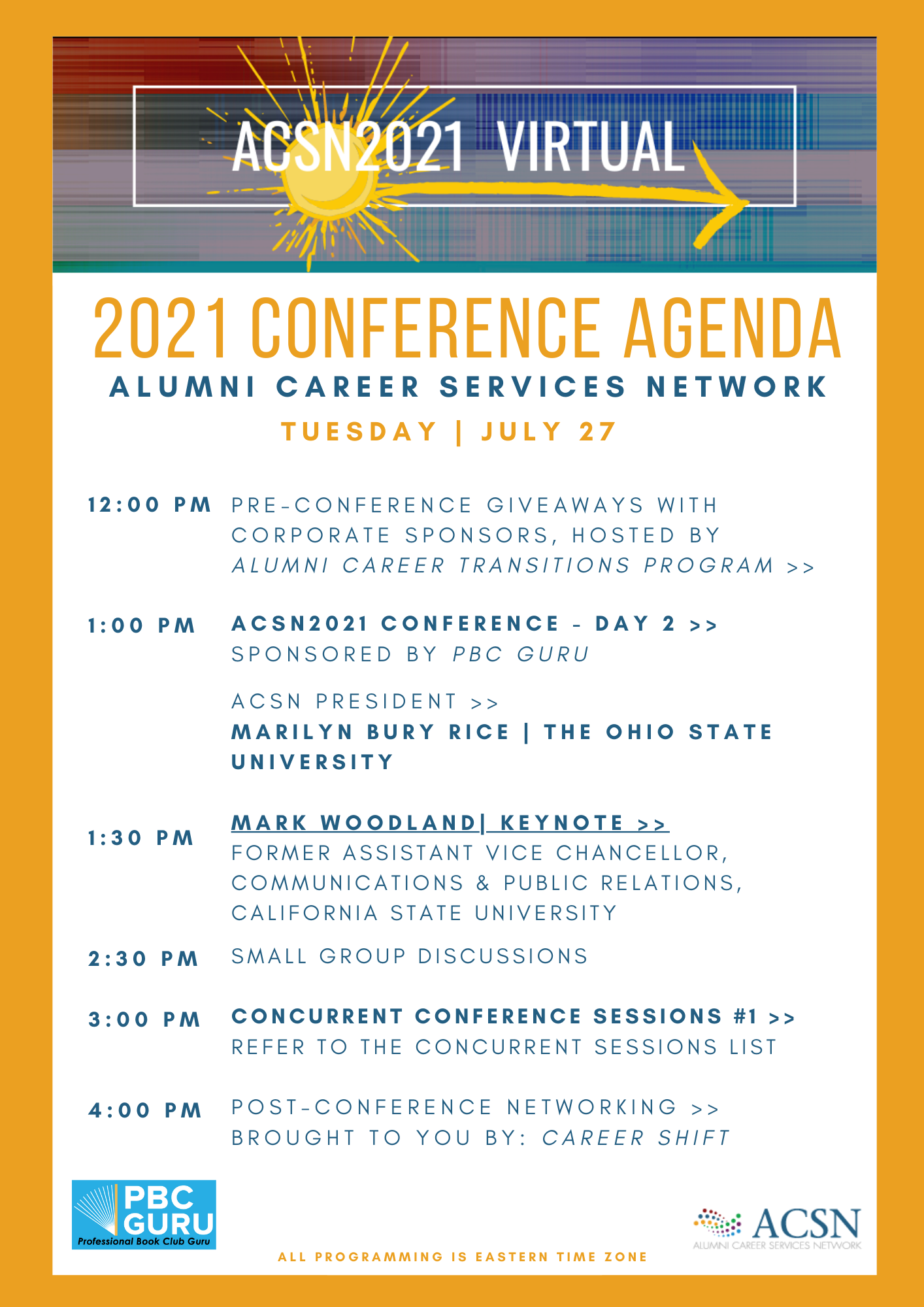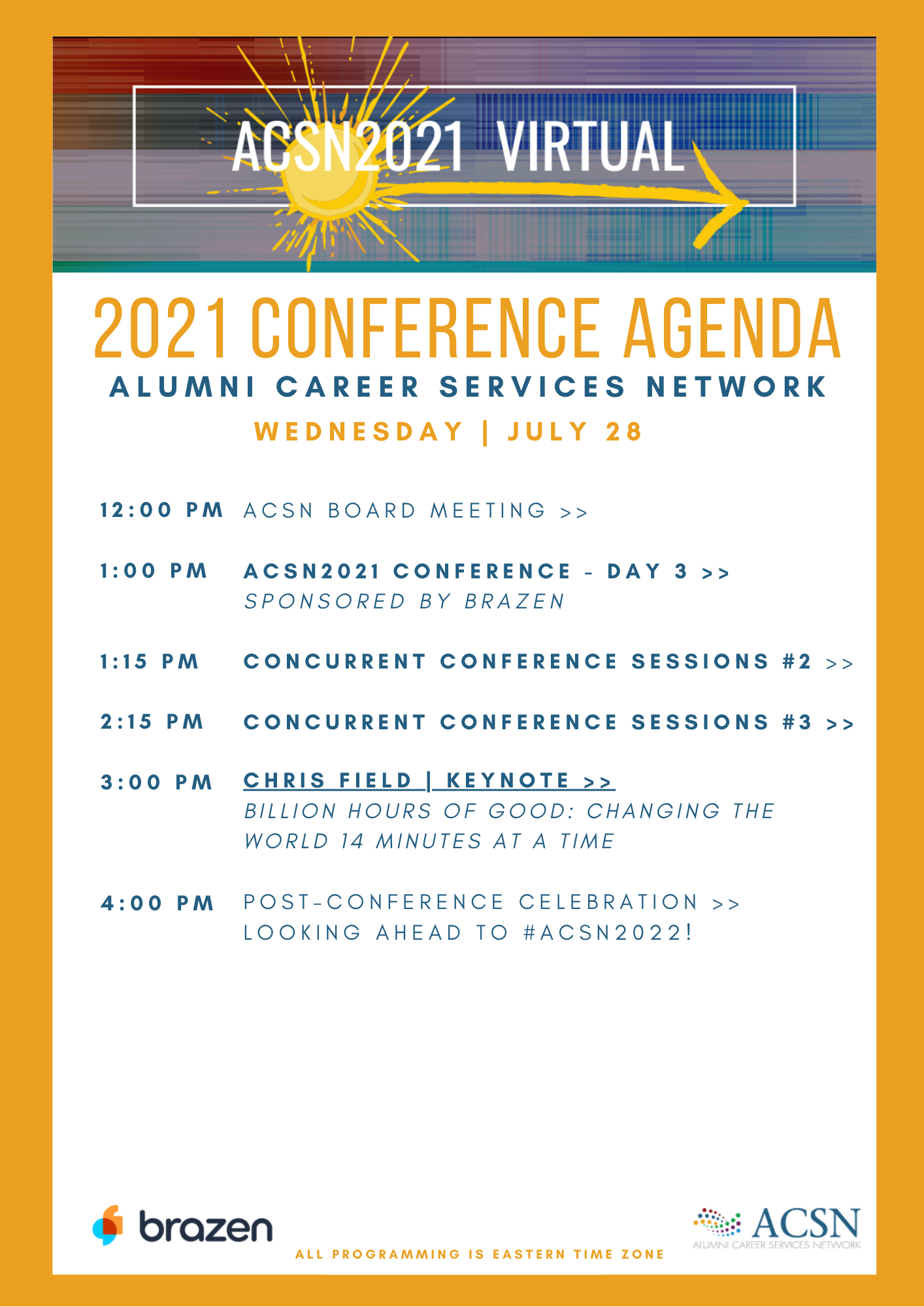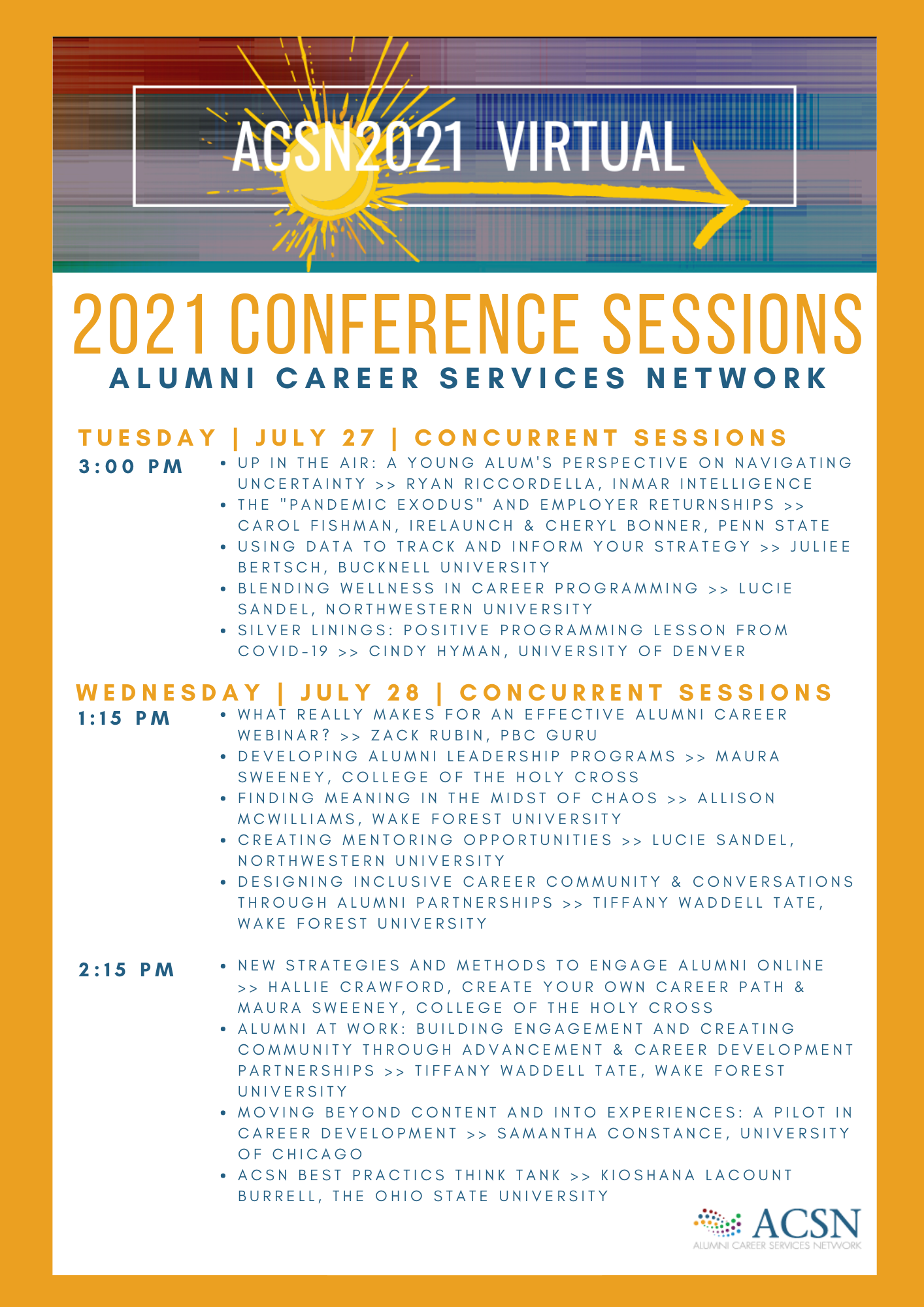 Click to download the latest schedule as of July 15, 20221! Please note, all programming is Eastern Time (ET).
A Big Thank You to Our Daily Conference Sponsors! >>
 Check out all our ACSN Conference Sponsors >>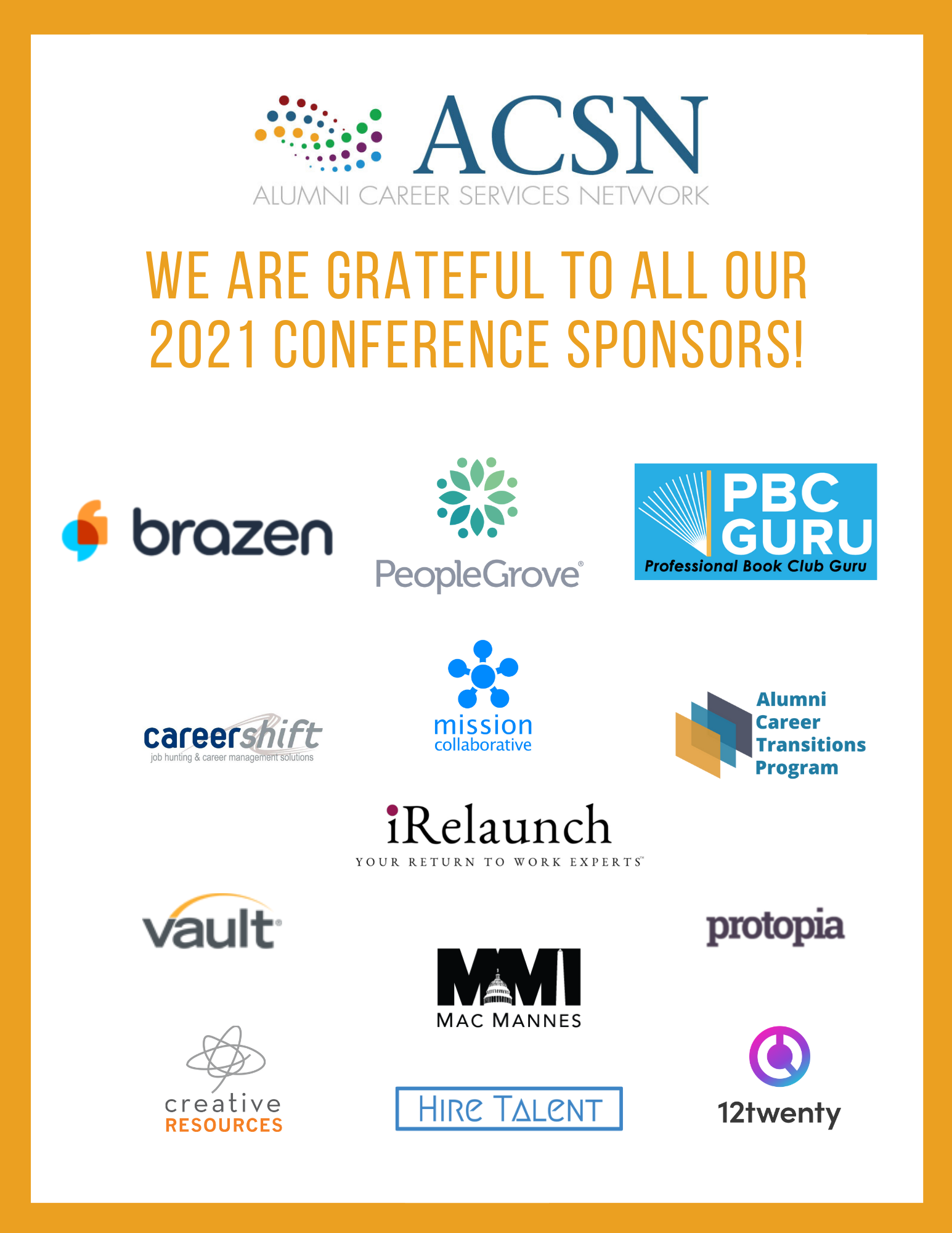 ---
Sponsorship & Inquiries >> 
Learn more about sponsorship packages and register here. Please direct any sponsorship inquiries and questions regarding ACSN2021 > Virtual to the ACSN Conference Committee.  Thank you!
ACSN2021 Planning Committee >>

CO-CHAIRS >> ​
Cheryl Bonner | Penn State, Katie Poppe | formerly Ashford University & Jillian Gray | formerly St. Margaret's Episcopal School​
COMMITTEE >>​ 
Jenna Collins | Syracuse University​, Melissa Turk | Carnegie Mellon University, Sarah Whitney Anderson | Vanderbilt University, Allison Mcwilliams | Wake Forest, Amanda Panarese | University of Virginia, Luci Sandel | Northwestern University, Kara Snider | University of California, Santa Cruz, Michael Steelman | William & Mary University, Ellie Geraghty | University of Maryland, Ayo Ogunye | University of Houston
---
 PAST CONFERENCE RESOURCES >>
Conference attendees from previous conferences can access conference resources here.